1Keyboard - Virtual Bluetooth Keyboard
1Keyboard
Use your Mac as a Bluetooth keyboard to all of your iOS devices.
Type on your iPhone, iPad or Apple TV using your Mac's keyboard.

Use your Mac's keyboard to type on any of your devices!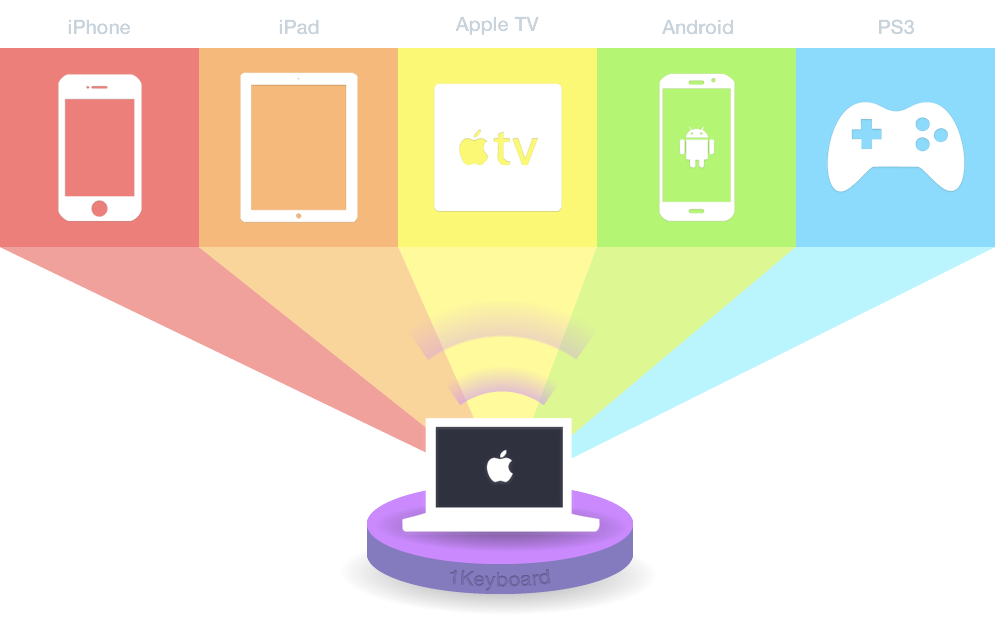 Easy. Efficient. Powerful.
It just works.

Connect a new device
Add new devices by simply pairing them up with your computer using Bluetooth. Open your device Bluetooth preferences and connect to your Mac.

Plug and play, zero configuration
Select a target device
A sleek menu bar utility displays your paired devices and their status. Use the menu or define keyboard shortcuts to quickly switch between target devices.

Customizable Keyboard Shortcuts

Start typing!
A device window appears when a target device is selected. Unique names and icons identifies each of your different devices. Toggle between desktop and focused device with a special shortcut.


What people are saying...
#amazing
"If you've never tried 1Keyboard
on your Mac, do it, now."
- Wez Knowles
"1Keyboard may be the best
thing ever."
- Sean Dunn
"Oh God, I *love* 1Keyboard.
Highly recommended!"
- Federico Travaini
"Finally, 1Keyboard to rule
them All."
- Paulo Simões